About
Posts by :
Little Things
Accessorize
We've heard it before in fashion, "Accessorize, accessorize, accessorize!" Haven't heard that too often in regards to real estate though and that is something that really helps. Little things, ranging from books to trays to throw pillows can really show off how wonderful a room can be. Our designers use their years of experience and huge inventory of all the 'little things' to transform your home into an inviting property that is sure fly off the market.
A Little Bit Extra
When you work with Phoenix Rising Home Staging – Chicago Home Staging before listing your home, we work with you on more than just simply recommending how to decorate to make your home more appealing to potential buyers, putting in the staging furniture and art. We can also assist you with:
Professional Organizing
Packing belongings
Color and paint choices
Storage and delivery of belongings…
See More
Have something in mind already, call us at 312-450-8365 or email paulc@chicagostaging.com to schedule your free consultation.
Beauty in the Eye of the Beholder
A beautiful house is less beautiful on it's own, from art to furniture to décor, carefully staged homes are more beautiful than unstaged homes! Its not just in the eye of the beholder, in fact, it allows potential buyers to really see details that they may not notice with furniture in the house, however, that doesn't mean that they can see how to make the beautiful house a home!
Home staging helps with that! It allows potential buyers to envision themselves sitting at the counter, relaxing on the couch by the fire, or enjoying a warm bath after a long day.
Show Some Love
Are you choosing to stay home this year for Valentine's Day, but want to make sure the atmosphere is perfect? Our interior designers can help! Give us a call and let them help you set the table for a Valentine's Day your loved one won't be able to stop talking about!
If your home is going up on the market soon or is already on the market, don't forget to show it some Love this Valentine's day and get your home staged. Your house and your wallet will feel the love by selling it in less time and for more money than a comparable unstaged house. If you want to really impress your valentine ask our interior designers to make over the whole house! Why not enjoy the home you have designed rather than sell it? Either way, we are there to help you out!
Call us at 312-450-8365 or email paulc@chicagostaging.com to schedule your free consultation and put your heart into a freshly staged and designed home.
Lived In
On cold winter days, a casual blanket laying around neatly, lamps used to light the room instead of a ceiling lamp, and warm hues all make a home feel more cozy. This is just the feeling you're going for when it comes to home staging.
Give us a call today…we'll use all these tricks, and more, to make sure your home feel just right for a family looking to buy.
Have Something New?
New construction homes are enticing to people who are looking for a move in ready home and those who don't want to have to worry about maintenance or making a lot of changes. However, and empty house can be hard to imagine furniture and decorations in a home that has never had any in it!
Phoenix Rising can help! Give us a call and we'll make any house look like a home welcome for any and all potential buyers. Whether you have a model townhouse or condo, a completely rehabbed home, or a newly built subdivision, our team will help showcase your property, get it ready for the market, and turn 'cold and empty' into warm and inviting.
Find out more by calling 312-450-8365 or email paulc@chicagostaging.com to schedule your free consultation.
Not sure if home staging is worth it? Don't take our word for it! Check out this article by bankrate, which says it's KEY to selling your home
If you want potential buyers to choose your property over that of the competition, home staging — the act of making a home look visually appealing to buyers — can make your house stand out from the crowd.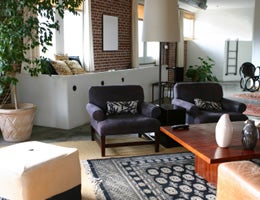 "Buyers often have a difficult time envisioning how a property can be used," says Dan Keating, owner of Coast Home Staging, based in Long Beach, Calif. "When they see a house that's beautifully staged, it's warm and inviting, and they perceive a much stronger value to that property."
That stronger perceived value often translates into a higher selling price. In a survey, real estate Web site HomeGain found that home staging resulted, on average, in a $1,780 price increase or a 586 percent return on investment. "We've seen that the value home staging brings to the table is dramatic," says Keating. But sellers should understand four staging basics.
Read more at Bankrate.com
The wood in this houses library is absolutely stunning, and that big beautiful window allowing all the sunlight in is gorgeous! However, most buyers would have a hard time figuring out just how to set a room like this up. They may think it's beautiful — but don't see themselves in it!
Now, throw in a couch, rug and make the library comfortable and you've just opened up the buying potential to the masses! We have a huge selection of furniture available to our designers that allows them to find just the right touch for every room. These range from classical pieces to modern designs that allow us to accent a room in almost style. Let us take your house from empty and intimidating to welcoming selling it faster and for more money by calling 312-450-8365 or email paulc@chicagostaging.com to schedule your free consultation.
Thinking of selling your home during the winter months, but concerned it's a bad time?
Not only is this a great time to list your home, but home staging is perfect when listing your house this time of year!
Here's Why It Pays to Sell Your Home in the Winter
If you're listing your home now, use these ideas to make a great cold-weather impression.
Spring may still be peak home-shopping season, since most families want to move when the kids are out of school. Yet it actually pays to list in the winter, when buyers tend to have more urgency: A study by online brokerage Redfin found that average sellers net more above asking price during the months of December, January, February, and March than they do from June through November, even in cold-weather cities like Boston and Chicago. And homes listed in winter sold faster than those posted in spring.
Should you put your home on the market now? Unless you need to sell (say, you've purchased your next home or are relocating for a job), "timing always depends on supply and demand," says Indianapolis real estate agent Christine Dossman.
To understand your local climate, check the number of days on the market for current and recently sold listings. If most are sitting for more than 60 days, it's safer to wait until spring, when more buyers will emerge. Yet "if properties are selling quickly, take that as a green light to list," says real estate broker Peggy Yee of Vienna, Va.
If you do move forward, these strategies will help make your home a hot seller this winter.
Price It Right
The quieter winter market brings special pricing considerations. Unlike in spring, when there are more shoppers—and it may make sense to price low to try to generate a bidding war—you're less likely to receive multiple offers.
Winter is also a bad time to test the market and list high. If the house doesn't sell, you may need to drop below market value to nab a buyer before new properties appear in spring and make yours look stale by comparison.
The upshot: Take a conservative approach and price at market value, Yee advises. Check closing prices of comparable properties sold in the past 30 days, then eye current list prices to make sure your home won't look overpriced.
Schedule a Tune-Up
Winter buyers are particularly attuned to issues related to heating and maintenance. Get your furnace, HVAC, and roof inspected, and make any necessary repairs. Also on your to-do list: Clean the gutters, change air filters, and weather—strip the windows.
Many cold-weather house hunters will also be thinking about heating costs. Consider low-cost upgrades like insulating the attic or installing energy-efficient windows, which can slash utility bills, says Brendon DeSimone, author of Next Generation Real Estate.
Brighten Your Home
Snow and gray skies make for a gloomy first impression. Warm up curb appeal with basic landscaping, and add inexpensive cool-weather plants like holly to invigorate outdoor space. Fix chipped paint, caulk windows, and repair cracked window seals, which can cause condensation that freezes over and creates an eyesore.
Offset the season's poor natural light by painting your house off-white throughout—it sets a consistent color palette and makes the space feel larger, says Sacramento interior designer Kerrie Kelly.
And create a sense of warmth throughout the home, starting with the living room, where staging can have the greatest impact, according to a National Association of Realtors report. Items like a throw blanket can set the tone since "people are in winter mode," says Annette DeCicco, a New Jersey regional sales manager at Berkshire Hathaway. Just don't tie the space to a specific religion or belief, advises Kelly. To stay neutral, use such seasonal touches as stacked wood by the fireplace rather than holiday decorations.
As always, de-clutter and depersonalize. Put away family photographs so that buyers can see themselves living in the home; instead display pictures that show what the property looks like when the temperature is warmer, like the garden in full bloom or the backyard in the summertime. Just because it's winter doesn't mean buyers can't appreciate what your home has to offer year-round.
Winter has arrived! Those cold temperatures, the snow, and of course, the wind!
Imaging having a long day, fighting the cold, but coming home to this! A nice cozy bathroom and a nice warm bath!
That imagination is the key to home staging, you plant the seed in their imagination of how a room is used. Empty walls and vacant spaces are hard for imaginations to fill and home staging does all of that for us. Spare bedrooms become children's bedrooms or home offices. A large empty room becomes a living room.
We pride ourselves at making our staged properties warm and inviting, but here is a little trick you can do to help. With the cold and wet weather back in the forecast – it's important to remember that you need to make some changes on the inside of your house when a home buyer is coming to look at it!
People want to walk in and feel that blast of heat. It makes them feel like your house is warm and inviting when looking at homes during the winter months. Consider setting your thermostat to 72 degrees to make sure your potential buyer feels warm enough to stay long enough to put in that offer!
Much of what home staging does is about helping a potential buyer feel at ease in someone elses' home. By making sure your property is staged by the best and you leave the heat on, you can warm up your home on the market and keep it from freezing in the slower winter real estate market.
Give us a call today at 312-450-8365 or email paulc@chicagostaging.com to schedule your free consultation.
Check out this before and after picture. We staged this whole house and it turned out great! While beautiful in it's own right, the right furniture, decorations, and lighting added so much to this great home.
Don't wait! Give us a call and get your free consultation scheduled today! Pictures like these highlight how important it is to get your home staged. Your neighbors are doing it, your friends are doing it, so don't get left behind with pictures of empty rooms when you get your home ready for market. Let Phoenix Rising's home stylists and interior designers transform average to amazing. These beautiful transformations make your house more photogenic and we all know that 'picture is worth a thousand words.'